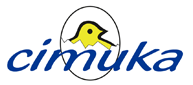 Cimuka is an establish manufacturer of incubators and incubation systems and is an unquestionable leader of the huge incubator market of Turkey. All Cimuka's products boast excellent quality and unsurpassed technology carefully developed over more than 30 years.
Thanks to the reliability and impecable precision of Cimuka incubators they are widely used in scientific research – here is a list of studies where Cimuka incubators have been used published in the prestigious Poultry Science magazine.
In the recent years Cimuka goes from strenght to strenght into the global incubator market and due to its unprecedented quality and price balance is quickly gaining an ever increasing popularity world-wide, including countries like Germany, Russia, France, United Kingdom, Poland and many other. These are just some of the links to Cimuka global representatives:
For over 30 years Cimuka has been manufacturing incubators, incubation systems and accessories, poultry slaughtering and plucking equippment, poultry drinking and feeding systems and many other poultry-related products. Cimuka consult thousands of large poultry farms and companies on matters of incubation in Turkey and world-wide. Such array of experience and know-how has not been accumulated by any other company in the world and this is helping to bring every aspect of Cimuka's products close to perfection and it sure reflects in exceptional hatching results of Cimuka PRODI incubators and in the quality of other Cimuka's products.
PATENTED TECHNOLOGIES OF CIMUKA
AIRROUTE™ air circulation system
This patented technology significantly improves hatching results. AIRROUTE™ takes care of optimal temperature and humidity distribution inside of the incubator. AIRROUTE™ complies with IP55 protecion class, allowing it to work efficiently in wet and dusty environments. Technology tolerates power surges as its working voltage ranges 90-265V.

This system is used in all Cimuka incubators: PD, CT, HB and T Series.

HUMISONIC™ humidity control system
Patented system turns water from liquid into gas using ultrasonic waves. Compared to conventional incubation himidification systems HUMISONIC™ doesn't cause temperature differences within incubator cabinet (as opposed to humidity heating pipes that cause unwanted extra heat).

This system is used in Cimuka CT, HB and T Series incubators.

TURNX™ egg turning system
Made only from aluminium and stainless steal, TURNX™ is an exceptionaly durable and reliable cabinet egg turning system. Patented design without chains or other high maintenance parts is equippied with linear actuator complying with IPX6 class fully protected from wet and dusty environment. Actuator provides a very smooth and gentle movement which eliminates any shock that might be harmful to eggs.

This system is used in Cimuka HB and T Series incubators.

CONTURN™ egg turning system
Excellent, patented design allows the incubation of eggs of different sizes. Made from shock-resistant ABS plastic. Eggs are being turned continuously every two ours invisibly changing the angle by 45 degrees each side.

This system is used in Cimuka PD and CT Series incubators.

DIGIFEEL™ control system
Digifeel control system provides coordinated, very precise temperature, humidity and ventilation control.

This system is used in CimukaT Series incubators.

COMFORTPLAST™ cage systems
COMFORTPLAST™ cage system is a relentless result of 30 years of cage manufacturing, research and development – a combination of scientific research and hands-on experience and demands of poultry keepers around the world. COMFORTPLAST™ cages are truly unique products without notable analogues in the world and they are manufactured using over 200 molds. They're made from 100% recycled, higly resistant plastic which doesn't decay in constant direct contact with poultry manure.

Cages are flat-packed, very easy to assemble, robust, long-lasting and visually very attractive, even decorative. COMFORTPLAST™ cage manufacturing had started in year 2011 with quail cage systems and now it has grown to nine model groups for different poultry species. COMFORTPLAST™ cage systems is the pinnacle of caged bird well-being. Absence of sharp edges results in no injuries amongst birds. Cages are equipped with feeders and nipple drinker systems, they're very easy to maintain (they can be easily washed with garden hose or power washer and will look like new in minutes) and provide almost zero food waste – all these factors have made COMFORTPLAST™ cages a must-have item for a discerning poultry farmer.

IPLUCK™ poultry pluckers
IPLUCK™ poultry de-feathering machines use direct drive technology that doesn't use pulleys and belts and provide a simple and efficient way to lower energy consumption. Produced by plastic injection molding technology IPLUCK pluckers are very higienic and pride themselves of an ideal alignment of plucking fingerst to achieve the best results.
HATCHeCO2™ ventilation control system
This system is used only in Cimuka's largest custom-made incubators. It can very precisely (NDIR) measure CO2 level within the incubator and adjust ventilation intensity using this measurment. This system allows to save up to 60% of energy by keeping the temperature and humidity within the incubator and only allowing as much fresh air in as necessary.